You are previewing:

THE WONDERS OF BAMBOO REINFORCEMENTS:GREEN SOLUTIONS
THE WONDERS OF BAMBOO REINFORCEMENTS:GREEN SOLUTIONS
THE WONDERS OF BAMBOO REINFORCEMENTS:GREEN SOLUTIONS
THE WONDERS OF BAMBOO REINFORCEMENTS:GREEN SOLUTIONS
Dr. Shilpa Pankaj Kewate / PROF (DR.) B. K. SARKAR
THE WONDERS OF BAMBOO REINFORCEMENTS:GREEN SOLUTIONS
Dr. Shilpa Pankaj Kewate / PROF (DR.) B. K. SARKAR

Dr. Shilpa Pankaj Kewate
MES's, Pillai HOC College of Engineering &Technology,
Rasayani Taluka Panvel, Dist, Navi Mumbai, Maharashtra 410207, India.
Dr. Shilpa Pankaj Kewate has completed her Ph.D. in Civil Engineering from Sardar Patel College of Engineering, Mumbai University. She is currently an Associate Professor in the Department of Civil Engineering, Pillai HOC College of Engineering and Technology, Dist. Raigad, Via Panvel (Navi-Mumbai), Rasayani, Tal. Khalapur 410207, MH, India.
She has a total of 18 years of teaching experience. She is a Post Graduate (P.G.) approved Teacher at Mumbai University and guided 20 students and several P.G. scholars are working under her in various domains. She is an approved guide for Ph.D at Mumbai University. She has ten patents filed to her credit. She is an Indian Green Building Council (IGBC) accredited professional (AP). She is the author of more than 45 scientific articles in refereed international scientific journals and proceedings of international conferences. She is an editor in refereed international scientific journals and has been a member of the scientific committee at international conferences. She is a reviewer in many international scientific journals. She is a recipient of awards including 'Excellence in Research' and 'Star performance'.
Her research interests are focused on structural dynamics, earthquake engineering, computer-aided structural analysis, concrete technology, sustainable technologies and construction management. Under her guidance, students have participated in the state-level project competition "REX", also secured the first position consistently in 2018 and 2019. Under her guidance, students have participated in the Avishkar 2018-19 project competition, conducted by the University of Mumbai and secured the third rank at the University level. She was Nominated as a 'Judge' for Selection Round of 15th Inter-collegiate Avishkar Research Convention: 2020- 21 for Engineering and Technology category and PG level. She has organised several Short Term Courses, Orientation Programs, workshop, conferences, and webinars.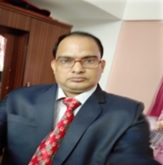 Being a guiding epitome is not what everyone can become; it comes with inherent passion and unconditional zeal to make a better future for others. Dr. Sarkar has been doing the same as an Educator & Administrator with a significant experience of being a Head of Institution for last 2 decades. Sharpening his work profile as a Director with specialization in Student Management, Sourcing, Teachers Training & Staff Development, Teaching and Liaising with the Regulatory Accreditation bodies, he has efficiently dressed himself in the merits of a professional through enriching educational qualifications and dynamic work experience. Emboldened with capacities to include students in the classroom exchanges, he keeps them notched to learning and evolving into a person ready to face the world. His Founder (04) Company, Total no of Patent National, International: (in Group) =851, Project Completed. (In Group) =2756.00 Cr. (International, National Level) Running Project Under Japan Govt. = (in Group) =567.00Cr.(International) ,Book Published: International =14, Total no of E-Book= 10, Workshop/Guest Lectures/Visits/Seminar (Guide, Presented) = 57-IPR- Patent, 24- NBA, 12- NAAC, 16- US- Patent, 10-Start-up India, (45-National, 12- International)),Member: JCET, IJCET, IJECRT, IETE, IJLTEMAS, ISTE, SMU, IIHT, Global R/D, GEH., Total no of Research Paper: International-46, National-32. His Post.Doc. (Singapore), PhD. (CS) (IIT), M-Tech (CS) (IIT), B-Tech (CS) degree and Early Childhood Education speaks volume about his urge and yearning for learning. Dr. Sarkar has been trying to instill the same ache in his students as well and has been doing so successfully for over 2 decades now as a Director and HOD.