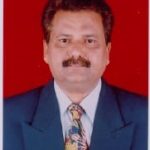 PROF (DR) J. W. BAKAL, PRINCIPAL, PHCET
Prof (Dr) J. W. Bakal, is presently working as Principal, Pillai HOC College of Engineering and Technology, Rasayani. In addition, he was appointed as Director In-charge of School of Engineering and Applied Sciences, University of Mumbai, Kalyan. He has completed M Tech (EDT) and PhD in Computer Engineering and has 37 years of Industry and Academia experience. He has published more than 200 papers in International Journals and International Conferences and several papers at National Conferences. He has 10 patents on his credit and more in process. He was Chairman Board of Studies, Information Technology, University of Mumbai. He was Chairman Board of Studies in Computer Engineering and Member of Board of Studies in MCA, University of Mumbai. He is PG and Ph.D. Guide in University of Mumbai. He has guided 12 Ph.D. research students and more than 50 M.Tech students. He was member of Academic Council, Research and Recognition Committee of University of Mumbai. This year Vice Chancellor appointed him as Chairman Board of Studies, Computer Science and Member RRC. He worked as a Principal Bharati Vidyapeeth College of Engineering Navi Mumbai, Shivajirao S. Jondhale College of Engineering, Dombivali. He is actively involved in the development of IETE Mumbai centre. He has served IETE Mumbai centre as Chairman, Vice Chairman and Honorary Secretary for more than 8 years. During his tenure as a Honorary Secretary, IETE Mumbai centre got its own premises at the heart of city in Chembur, Mumbai.
He has organized several International and National Conferences successfully; ATC 2009 was one of these. During his tenure as Chairman, IETE Mumbai Centre, the centre won the Second Best Centre Award for year 2011-12 during ATC 2012 at Bangalore. He received prestigious B R Batra Award of IETE New Delhi and a National Award, "Achievement in Education Excellence Award" by NEHRDO, New Delhi He is a member in many technical professional bodies such as Fellow of IETE, New Delhi, Member, IE, Kolkata, Member, International Association of Computer Science and Information Technology (IACSIT), Singapore. Senior Member, IEEE, USA, Member, International Journal of Engineering Research and Industrial Applications(IJERIA), Member, Computer Society of India (CSI) and so on.