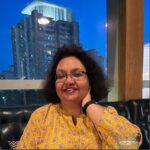 Meera Aggarwal is an Educational Consultant, an 'Action Learning' Coach and a soft -skills trainer. She has worked with HCL Technologies, GTC Industries and Council for the Indian School Certificate Examinations (CISCE), New Delhi. Meera has vast experience in academics, education policy, school management and administration. Her clients include Dhirubhai Ambani International School, Mumbai, Madhuban/Vikas Publishing House, New Delhi, St. Xavier's and Ryan Group of schools, Mumbai, Shalom Hills International School, Gurgaon, Bombay Scottish School, Mumbai etc.
Meera is a trained Action Learning Coach and currently championing action learning as a problem solving and capability building tool. She has conducted several soft-skills training programmes and has been conducting training programme for the corporates as well as government/ministries.
Meera has authored several books including series of school books for the teaching learning of ICT and Mathematics.
Meera is a language arts expert. She conducts story-telling and story creation workshops. These workshops have culminated in participants writing stories, book reviews, articles, and blogs. More than ten of her students are published authors and their work is available on popular sites like Amazon, Flipkart, Snapdeal etc. These have been received well and reviewed on Goodreads.
English Language, communication and critical thinking skills are her forte. She works on enhancing the confidence in both speaking and writing. Her approach is working towards strengthening the core areas. Her student body comprises school & college students, corporates, bloggers, Government offices and ministries.
One word to describe her – Positive.
Books by Meera Aggarwal - Co-author, Editor, Presenter