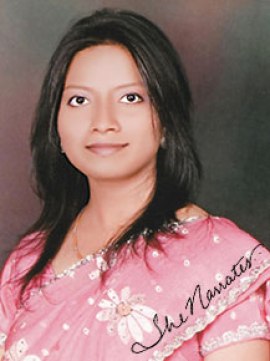 Hello! I am Pallavi Prakash Kumar. I am a young parent, and by the time this book reaches you, I would be a tad older. Cheese!
I am an IT engineer, a writer, a blogger, and a social contributor. I live with my small and sweet family in Delhi. We are three, my husband Prakash and our little learner Pratham. I am a dreamer and I am happy weaving merry memories with Pratham & Prakash as we sail through our journey of life. I am also a firm believer of the philosophies of self-love and self-healing as propounded by Lousie Hay and the teachings of Abraham-Hicks who talks about the laws of attraction and how to make them work to your advantage.
In my free time, I like to walk myself into the 'lands of nowhere and everywhere', sailing seamlessly in the sea of words stitching tales. I prefer expressing myself through writings as opposed to verbalizing. I like reading and writing poetry, especially limericks and acrostics. I also like to read and write on the topics of parenting, and I share my parenting tips and tales on my blog shenarrates.in.
The book Pratham, Mum and The City is an addition to the repertoire of my writings. It is very different from the existing children's literature. This is the first in the series and I plan to give you equally engaging and thought-provoking books in the very near future.
Enjoy reading!
Books Of Pallavi Prakash Kumar