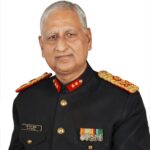 Major General Pran Koul, former Additional Surveyor General, is a veteran of the Indian Army. Way back in 1991, during an Indian National Scientific Expedition to Antarctica,  he led the Survey Team and surveyed the first Indian map in Antarctica which was filmed in a national award-winning film Antarctica: A Scientists Paradise', produced by the Ministry of Information & Broadcasting, Government of India
He hails from the dense streets of Sopore (Kashmir). He has been part of some important and often historic missions which include Antarctica, the high hills of the Himalayas, Pakistan, China, the United States of America, Russia and Bhutan.
His books figured in Times of India, Jammu based Daily Excelsior, the English fortnightly The Week and Malayalam Manorma.
Books by Major General Pran Kaul