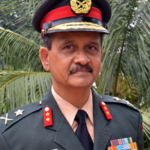 Major General Joydeep Bhati, SM, an alumnus of the National Defence Academy, was commissioned in December 1980 into the Mechanised Infantry Regiment. He through his illustrious career of 38 years has served the Indian army with distinction.
He has had the honour of commanding a Mechanised Infantry battalion in both Counter Insurgency environment and Op PARAKRAM. He also had the privilege of commanding an Infantry Brigade in a Strike Corps. In staff, he has been a Brigade Major of an Armoured Brigade, Colonel General Staff in the Army Training Command, Colonel Administration of a RAPID and Major General Operation Logistics in two commands.
Besides all the basic courses, he has attended the prestigious Defence Services Staff College, Wellington and Higher Command Course at Army War College, Mhow.
Post superannuating, he has settled at Agra where he continues to contribute to society in multifarious ways.
Books by Maj General Joydeep Bhati