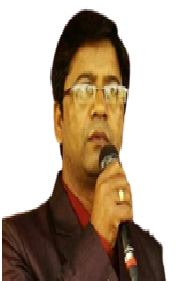 Dr Shashi Nath Mandal,WBES, PGDCA, MSW, LL.M, Ph.D
Associate Professor of Law & Ex-Deputy Director of Public Instruction, Higher Education Department, Govt. of West Bengal under West Bengal Education Service.
After his schooling from Burdwan Nehru VidyaMandir in 1992, graduated from Burdwan Raj College in 1996, Complete LL.B. in 1999 from the University of Burdwan, Dr. Mandal had practiced for a couple of years as Advocate in District Judges' Court, Burdwan. After his LL.M in 2004 with specialization in Business Law from the University of Burdwan, he has forthwith joined Law College Durgapur, Durgapur, Burdwan as Lecturer-in-Law and shouldered the responsibility of founder-in-charge of the Law College Durgapur. He has qualified UGC-NET and joined his doctoral research work in the Department of Law, the University of Burdwan and successfully awarded the Ph.D. in Law in the field of Intellectual Property Rights in 2010. His subjects of interest are Jurisprudence, Intellectual Property Law, Administrative and Constitutional Law, Cyber Law, and Human Rights Law. He has published more than 60 Articles in International and National peer reviewed Journals of high repute which are published from India, United States, and Germany etc. He has attended and chaired many National and International Seminars, Workshops etc. Boook on 'Copyright Laws: Cases and Materials' in 2011, 'Understanding Copyright Through Judicial Precedent: A Glimpse of Copyright Development' in 2012, edited Volume on 'Empowerment of Women: Human Rights Perspectives', in 2016,'Corporate Governance: Emerging Concerns' was in 2017 and 'Patenting Microorganisms and Genes' in 2018 are a few of his remarkable works.
He is an Executive Editor of 'Global Journal of Juridical Sciences', a peer reviewed half yearly inter-disciplinary journal. He is a recognized Ph.D. research guide of the University of Burdwan, West Bengal. Three scholars have already awarded Ph.D. in Law under his guidance & supervision. He is a known administrative and legal trainer and member of many research journals in India and abroad. The author is also a life member of Indian Institute of Public Administration, New Delhi. HisUpcoming Books: 1.The Indian Constitutional Law: Contemporary Challenges (Edited) 2.The Indian Constitutional Law: Emerging Concerns (Edited), 3.  Law of Evidence, and 4. Transfer of Property Law.
Books Of Dr.Shahi nath Mandal