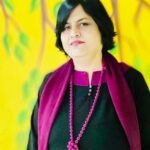 Dr. Sangeeta Saxena is a very dedicated and strong-willed person, having immense knowledge and experience in the field of education. She has given invaluable 38 years in the service of educating students and teachers as well.
She has worked very actively for Goonj, Helpage India and Adult Education Programmes. The British Council has awarded her for Education for Global Citizenship, Sustainable Development and International Learning and she is also Brand Ambassador for The British Council. The British Council awarded her with the British Council International Award for Education Excellence three times in a row.
She capped the International School Award 2013 for implementing International Learning by Planet EDU. She got the Lifetime Education Achievement Award for outstanding achievements in the field of Education by the International Institute of Education & Management.
She was honoured by the Rajiv Gandhi Education Excellence Award organized by Indian Solidarity Council in 2011. She was awarded Certificate of Recognition by National Cooperative Union of India. She also received the International School Award from Qualifications and Assessment International, United Kingdom in 2014.
Dr. Sangeeta Saxena has widely travelled both Nationally as well as on the International map. She visited the United Kingdom several times, Europe and the United States of America for furthering International Educational Programmes and encouraging students exchange.
She got the International Eminent Educationist award by NIC in 2011, Indira Gandhi Vidya Gold award in 2011, the Green School Award, the Lifetime Education Achievement Award, the Indian Achiever Award by All India Achievers Foundation, National School Award, Gems of Malwa Award in Punjab and many times awarded as the Best Principal by various Foundations and Institutions.
Books by Dr. Sangeeta Saxena