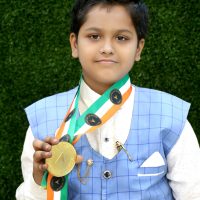 The author (Agrim Goel) of this book, was born on August 10, 2009 and is 10 years old. The
author has a passion of writing good literature especially works of fiction. This is
his second wonderful achievement. He wrote his first book at the age of 9. The name of his book was, 'The Adventures of Three Friends' for which his name was enrolled in IBR (India Book of Records).The author wants to touch the pinnacles of success by becoming world renowned author. He wants to spread the message of harmony through his creation..