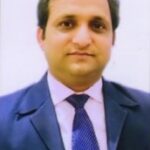 Dr. Nitish Pathak
Associate Professor,
Department of Information Technology,
Bhagwan Parshuram Institute of Technology (BPIT),
Guru Gobind Singh Indraprastha University (GGSIPU), New Delhi, India
Dr. Nitish Pathak has done Ph.D. (Computer Science and Engineering) from Uttarakhand Technical University, Dehradun in 2017. He is an alumnus of Dr. A.P.J. Abdul Kalam Technical University; Lucknow and he obtained his Master degree in Computer Science and Engineering in the year 2010.
Currently, he is working as an Associate Professor in the Department of Information Technology at Bhagwan Parshuram Institute of Technology (BPIT), Guru Gobind Singh Indraprastha University (GGSIPU), Delhi, India. He has more than 17 years of experience in Engineering Education, Corporate, and Research. He is actively engaged in teaching and research in areas of Computer Science since 2005.  He is the recipient of the prestigious Directorate Award (2008 and 2009) for best teaching performance at ABES Engineering College, Ghaziabad. He got the best research paper publication award (2017, 2018 and 2019) from Bharati Vidyapeeth, GGSIPU, Delhi. He received the INDIACom outstanding contribution award (2016, 2017, 2018, and 2019) & CSI outstanding contribution award-2015, for organizing the IEEE/Springer International conference, by Bharati Vidyapeeth, GGSIPU, Delhi. Original results have been published in more than 80 papers in international journals (SCI/SCIE/Scopus), proceedings of international conferences (Springer and IEEE Xplore etc), patents, and book chapters.
He is Guest Editor, Lead Guest Editor, and Associate Editor in various SCI & other reputed journals like CMC-Computers, Materials & Continua (USA), IASC-Intelligent Automation & Soft Computing (USA), CSSE- Computer Systems Science and Engineering (USA), and Wireless Communications and Mobile Computing (United Kingdom) etc. and many more SCI journals of Elsevier, Springer, Wiley & MDPI, etc.  His research interests are Intelligent Computing Techniques, Empirical Software Engineering, Trusted Operating Systems, Cloud Computing, WAN, IoT, and Artificial Intelligence. He actively reviews articles in various journals and conferences. He has been associated with various conferences as Technical Program Committee Member/ Session Chair / Reviewer/ Conference Advisory Committee member etc. He has been proactively involved with professional associations and is a Life Member of the Computer Society of India (CSI) and the Indian Society for Technical Education (ISTE).
Books by Dr. Nitish Pathak